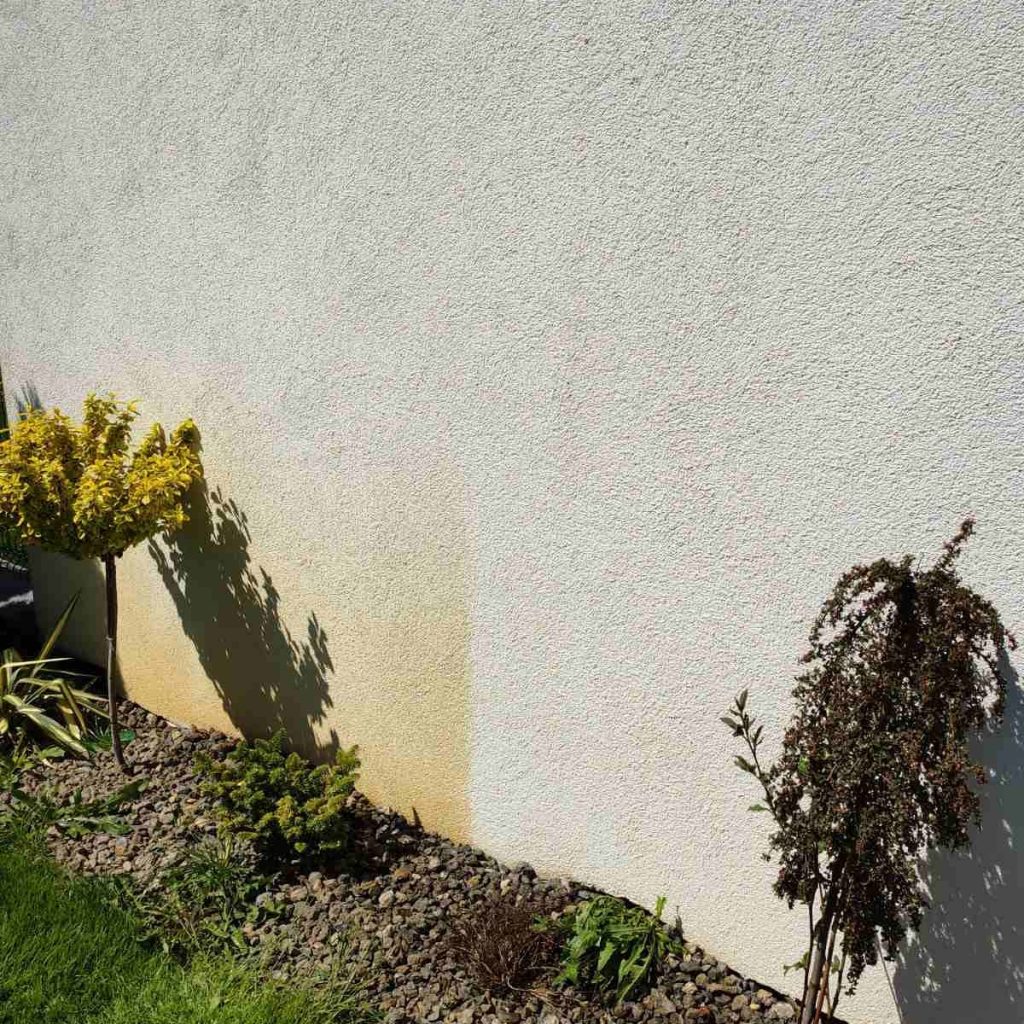 Fasáda dotvára celkový charakter nášho domova a je tiež určitou vizitkou svojho majiteľa. Tvorí podstatný základ domu a aby bola užitočná, musí spĺňať určité požiadavky. Starostlivosť o fasádu je preto nesmierne dôležitá. Každý predsa chceme bývať v dome, ktorý nás baví a vytvára miesto, kde sa chceme cítiť dobre. Drvivá väčšina nečistôt na fasáde je biologického charakteru. Napadnúť ju môžu plesne, huby, riasy, či machy. Zvyšok nečistôt je zväčša ľahšie odstrániteľný prach a piesok.
Čo spôsobuje znečistenie fasády? Existuje niekoľko vedecky dokázaných faktorov, ktoré priamo ovplyvňujú znečistenie fasád. Aké to sú?
1. Chyby pri stavbe
Chybné prepojenia alebo chybné odvodnenie dažďov spôsobujú vlhké miesta na stene a tvorbu plesní.
2. Zeleň a tieň
Ak fasádu zakrýva veľký porast či iná budova, vzniknuté mokré plochy vyžadujú viac času na vysušenie. Táto vlhkosť podporuje tvorbu rias, húb a baktérií.
3. Krátky previs strechy
Strecha má chrániť dom pred dažďom a následným znečistením fasády. Ak je strecha dostatočne dlhá, zamedzí vlhkosti a zamoreniu hubami.
4. Nesprávne vetranie
Pri nesprávnom vetraní vznikajú plesne tesne nad oknami. Dôvodom je vetranie okennou vetračkou, ktoré zanecháva teplý vzduch vonku, kde sa zráža a vytvára perfektný priestor rast húb.
5. Nízky sokel budovy
Pre budovy s fasádnou omietkou je potrebné dbať na to, aby bol sokel budovy dostatočne vysoký. Zabraňuje tomu, aby sa vlhkosť pôdy dostala do fasádnej omietky.
6. Počasie
Nachádzame sa v klimatickom prostredí, ktoré disponuje všetkými ročnými obdobiami. Vyskytujú sa u nás silné dažde a mierne teploty. Tvoria ideálne podmienky pre tvorbu rias, húb a baktérií.
7. Znečistenie ovzdušia
Zvýšené zaťaženie vo vidieckych oblastiach a horšia kvalita ovzdušia v mestách, podporujú rast mikroorganizmov.
8. Bežné znečistenie
V mestách je spôsobené výfukovými výparmi a špinou ciest. Na vidieku je to poľnohospodárstvo a lesníctvo, ktoré sú zdroje znečistenia všetkých druhov fasád.
9. Tepelná izolácia
Izolujeme preto, aby teplo ostalo v dome a aby sme ušetrili náklady na vykurovanie. Ak je však izolácia príliš vysoká, teplotný rozdiel medzi vnútornou a vonkajšou stenou je veľký. Na povrchu dochádza ku kondenzácii.